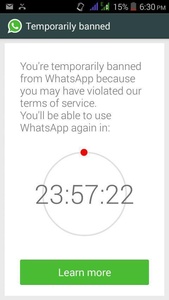 WhatsApp has taken the next step in tightening their policies, basically banning the use of third-party clients or even their installation.
Earlier this year, the popular messaging service told users and developers that because they could not guarantee third-party apps are safe and secure, they would begin to crack down on them.
Third-party devs have been receiving cease and desist notices and users also saw their accounts temporarily banned but there was widespread panic this week when a WhatsApp developer posted on Google+ that the company would be begin to use a "Permanent Account Disable" for anyone using a third-party app.
For now, the company has clarified the reports, explaining that the bans are still placed on the accounts for only as long as the user continues to use non-official applications. Previously, users received 24-hour bans as warnings. There will be
no
permanent bans although the ban will essentially be permanent if you do not remove the third-party apps from your device.
Source:
Crunch via WhatsApp