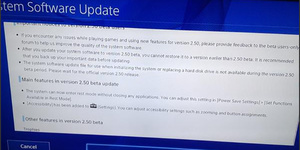 After a year of delays, it appears that the Sony PlayStation 4 will be finally getting the highly anticipated suspend/resume feature.
Such a move will put the console in line with rival Microsoft's Xbox One, which allows players to shut down their system and then turn it back on at any point and have (nearly) everything pick up where they left off.
Sony promised the feature before the console launched in November 2013, but there has been little word about it until very recently.
New screenshots posted to
Neogaf
show that firmware update 2.5 will add the ability "enter rest mode without closing any applications," which suggests the suspend/resume feature.
Additionally, there is expected to be a button remapping screen, allowing gamers to change the controller button layouts for their games.