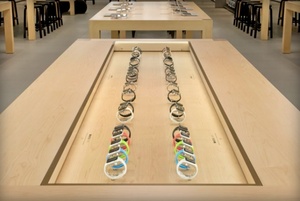 As part of their broad 'Spring Forward' event today, Apple revealed the release date and pricing for their hotly anticipated Apple Watch.
As expected, the Watch starts at $349, and as predicted by John Gruber, the high-end models will retail for over $10,000.
Beginning with the aluminum Apple Watch Sport, you can get a 38mm face version for $349 and the 42mm model for $399. Jumping to the stainless steel Apple Watch will cost you $549 for 38mm and $599 for the 42mm model. If you want a different band, the Apple Watch could cost you as much as $1099, suggesting that some bands will cost upwards of $500 by themselves.
Finally, available at select flagship stores, the 18-karat gold Apple Watch Edition will begin at $10,000 and go higher from there.
The watches will be available in stores starting on April 24th, with pre-orders beginning on April 10th in the US, UK, China, Australia, Canada, France, Germany, Japan, and Hong Kong.
Source for pic:
Verge