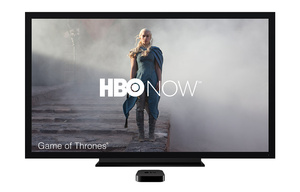 Apple made an interesting note today during their Apple Watch keynote event, flexing some muscle while announcing exclusive access to HBO's new standalone streaming service for set-top boxes.
The new service, HBO Now, will be available only for Apple TV owners for the first three months of its release, however, anyone can still view the library of films from a Web browser so the term 'exclusive' can be considered a stretch. There will also be an iPhone and iPad app available at launch, if you prefer to view on the go.

"All you need to get HBO Now is a broadband connection and an Apple device," said HBO CEO Richard Plepler.

Just like HBO Go, the service will offer HBO's entire library or original shows and a large list of feature films. The service will cost $14.99 and you will not need a cable HBO subscription. The service launches just in time for the next season of 'Game of Thrones' which begins on April 12th (trailer below)

In addition, Apple also revealed it is slashing the price of the Apple TV to $69, putting it in-line with pricing from rival devices like the Roku.