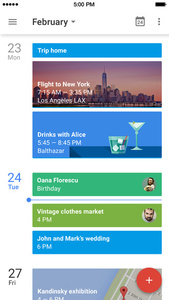 iPhone fans rejoice! Google has released their native Google Calendar app for the iPhone this week.
Similar to its Android counterpart, the app allows for easy sharing, event creation and scheduling.
Events from your Gmail inbox are added to the calendar (think flights, hotel bookings, dinner reservations) and it can suggest events and places like Google Now or Inbox would.
Google says the app will work with Exchange and iCloud and most other calendar apps you are already using on your phone.
Check it out here:
Google Calendar