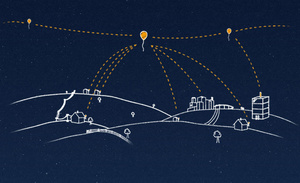 Google's plans to bring Internet to the world via balloons has hit a new milestone.
According to the search giant, a "Project Loon" balloon can now stay afloat for six months at a time and provide 4G LTE Internet to an area as big as the size of Rhode Island, the U.S.' smallest state at about 1200 square miles.
Project Loon is not likely to launch in the U.S. first, where Internet is relatively abundant, but rather in places where it is nearly impossible to find affordable service. Google's service piggybacks on existing carrier's towers, which send signals to the balloons that can then relay the signals to Web-connected devices.
Says Google: "
The main cost gain comes from the fact that you can cover a much bigger region with existing infrastructure. Telcos take their preexisting infrastructure, point them to the sky, and they get a much broader coverage. For instance, if you already have towers to cover a city, you can point part of it to the sky, and you will be able to cover the whole region through the loon balloon network."
From its humble beginnings in 2013, the Project Loon balloons have upgraded from 3G to LTE and from staying in the air for 5 days to now over 100 days on average, and 180 days in ideal conditions. The balloons can also now fly kilometers in the air compared to just 800 meters previously.
Source:
Ars
Google Project Loon