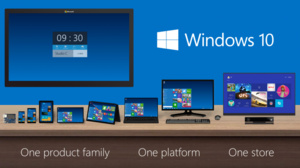 Microsoft has made an unprecedented move today, announcing that all Chinese Windows users will be able to upgrade to Windows 10, for free - even if you are running a pirated version.
Over the past decade, studies have found that between 60-75 percent of Chinese users run pirated versions of Windows, with most of those users running Windows XP, which is over a decade old and vulnerable to security exploits.
Terry Myerson, head of Microsoft's Windows division, announced the move this week:
"We are upgrading all qualified PCs, genuine and non-genuine, to Windows 10."
He did not say much else except to note that the company is looking to "re-engage" with hundreds of millions of Chinese Windows users.
Besides the desktop OS, Microsoft is working with Qihoo, Tencent and Lenovo in China to bring Windows to the mainstream, and the companies are actively working on Windows Phone devices, or Windows 10 apps for their software.
Outside of China, Microsoft is offering Windows 10 for free to licensed Windows 7 and Windows 8/8.1 owners, the first time it has offered an operating system upgrade for free.
Source:
Recode