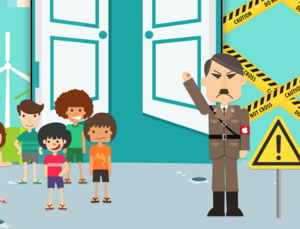 By
Godwin's law
it was inevitable that Apple was to be called nazis and/or Hitler on heated internet discussions but for it to come up in a smartphone platform war between the companies themselves was a little unexpected.
Jia Yueting, the CEO of a Chinese online video service LeTV, has just compared the offerings of Apple to the National Socialists lead by the Führer himself.
As LeTV is looking to enter the smartphone market with an upcoming X600, it wants to depict Apple's platform as if controlled by an evil dictator that doesn't allow anything fun. Android on the other hand is depicted as the young people who do what they want.
Of course the X600 comes equipped with the latter and
according to The Verge
it might feature 4GB of RAM and a 5.5-inch display.
The fellow Chinese manufacturers, like Xiaomi, offer more obvious competition to LeTV in their home market and although an easier target, Apple and how its perceived will probably not be determining the success of LeTV.