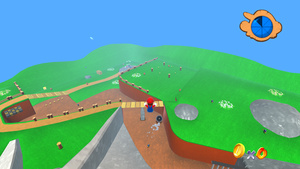 Nearly 20 years after its console release, Super Mario 64 is back.
Roystan Ross developed a desktop version of the game (well, the first level so far at least), which can be played for Windows, Mac and Linux, and there is a demo of the playback after the jump. The game has been remastered with more modern HD graphics and includes gamepad support including DS3, 4 and Xbox One and 360 controllers.
The developer has put a lot more technical know-how in his blog post, which can be found
here
.
At the same link, you can download the files, since the browser version does not seem to be working at the moment.