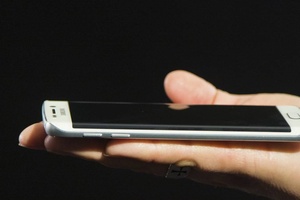 Samsung has confirmed today that it is having supply issues for its new Galaxy S6 Edge smartphone, with the company confirming that there are difficulties manufacturing the curved displays.
JK Shin, the company's mobile boss, warned there would be limited supply of the Edge model due to the manufacturing process, and that the issues could be around "for a while."
Without giving any predictions, Shin did say they expect the S6 and S6 Edge to outsell their predecessor, the S5, which sold weakly compared to predictions.
By all accounts, the phones are already a hit, seeing over 20 million in pre-orders. The S6 has a 5.1-inch OLED QHD display, up to 128GB internal memory, 3GB RAM, 16/5 MP cameras, a fingerprint scanner, curved glass on the front and will launch with Android 5.0 with Samsung's own UI on top.
Source:
WSJ