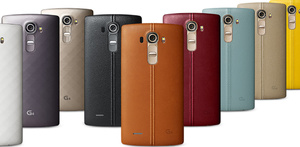 LG's latest flagship, the G4, has begun rolling out across the globe following its early launch in Korea.
The company says the device will launch in Hong Kong first, followed by Turkey, Russia and Singapore. Afterwards, the smartphone is headed to "most of Europe, North America, CIS, Southeast Asia, Middle East/Africa and South/Central America" over the course of the next month.

LG's latest has a large 5.5-inch, 2560 x 1440 pixel (QHD) display with better color reproduction, adds a bit of a curve (to help avoid shattering the screen if you drop it), is powered by a Qualcomm Snapdragon 808 processor, 3GB of RAM, 32GB of internal storage (microSD expandable), a 3,000mAh removable battery (no QuickCharging or wireless charging available however) and Android 5.1 with LG's own custom UI on top.

Notably, LG says its GPS nav and location services are "twice as accurate" as any other phone and the company has removed lots of bloat, so the devices will seem almost like stock. The company is also adding 100GB of free Google Drive storage for 24 months, at least for the U.S. model.