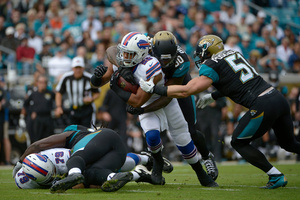 Yahoo has been announced as the exclusive livestream provider for the October 25th Jacksonville Jaguars-Buffalo Bills game.
Even more importantly, the game will be completely free for viewers.
It is believed Yahoo paid over $20 million for the rights to the game, and Yahoo will also have exclusive ad rights for the game, with the potential to make a good return.
There is, of course, downsides. The game is to be played in London, meaning it will air at 6:30am for West Coast Americans. Even diehard Jaguars and Bills fans will have to think hard about waking up that early on a Sunday.
According to CBS, who is producing the Web stream, quality is a priority as is availability and the game will be available on mobile devices, PCs, Chromecast, Xbox 360 and the Apple TV.
Source:
Recode