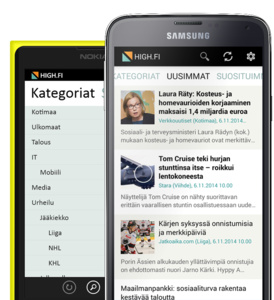 For the past year, thousands of you have been satisfying your needs for news content with our HIGH.FI app, and we couldn't be happier to have you!
The app, built by AfterDawn (our first!), was made to simply aggregate news content from all over the web. We wanted to make an app that could drag in news from everywhere and still could be categorized and filtered, without getting too bloated. In a way, we wanted to build a kind of
"pre-loaded Feedly"
.
About a year ago, that app debuted for Windows Phone devices titled HIGH.FI, after the en.high.fi domain that provides a lite-version of the service for Desktops. Surprisingly, people liked it and several months later we dropped an Android app onto Google Play.
With no significant promotion other than our own, HIGH.FI is approaching 10,000 installations on Windows Phone, and 14,000 on Android. It has an aggregate rating of 4.1/5.0 on Google Play, which also surprised us for our first app. It turns out there are plenty of news junkies like us who find this app useful, and thousands of you use it everyday! Thank you for choosing to keep our app and using it so often because it has kept it a priority even as we are on the verge of some major updates and changes at AfterDawn.
Here's what HIGH.FI looks like
HIGH.FI is meant to be simple, so it just loads the latest news it has dug up from thousands of sources from the second you run it. Swiping left and right takes you between "Latest News", "Most Popular" and "Categories".
We would particularly like to thank those who
took the time to provide feedback to us about the app
, which has influenced quite a lot of the development in the past year.
You can download the HIGH.FI app from Google Play or from the Windows Phone Store:
You can also use HIGH.FI on Desktop at
en.high.fi
, but if you want to experience it properly try the app too.
Unfortunately, I don't have any update to provide right now on the status of HIGH.FI for iOS, but if you think we need an iOS app then don't hesitate to kick us about it!
Supported languages and regions
Most of our staff are multilingual, and we're spread out across several continents, so naturally HIGH.FI is intended to provide relevant results based on your region and in your primary language if possible. This is what we're working on behind the scenes most of the time on this app, and right now you can set HIGH.FI to filter for:
United States (English)
Finland
Denmark
Estonia
Germany
Italy
Netherlands
Norway
Sweden
We will continue to fine tune those filters while also providing more options so that users in Britain, Ireland, Australia, and everywhere else you have been installing from, can get more local and relevant news.
We have some pretty good ideas on what new features to add to the app too, and those will flow in over the coming months.
Once again, thank you to all of you who reach for HIGH.FI while trying to wake up in the morning, while commuting, while on lunch break, during commercials and in bed before you fall asleep. We appreciate it very much! Please continue to tell us what you like about HIGH.FI, what you think sucks about it and most importantly, what you'd like to be able to do with it that you can't already, and we'll do our best to accommodate!