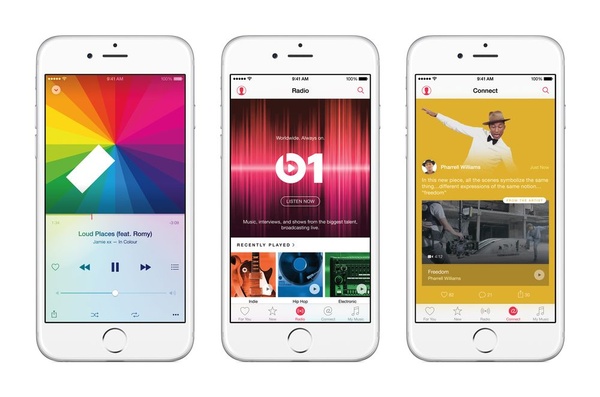 Among a plethora of announcements today at Apple's WWDC event, came the most awaited of them all: Apple Music.
The tech giant has been planning to get into the streaming music business since their $3 billion acquisition of Beats last year, and with it the transition of bringing music industry legend Jimmy Iovine on-board.

"We've had a long relationship with music," said Apple CEO Tim Cook during the keynote. "And music has had a rich history of change, some of which we've played a part in."

The app itself will combine a standard streaming service with an Internet radio platform. iTunes Radio will have celebrity DJs like Drake, Dr. Dre, Pharrell and will.i.am and Apple's new Beats1 station will play music 24/7 and be handled by DJs Zane Lowe, Ebro Darden, and Julie Adenuga. You have unlimited skips, as well, if you aren't feeling the vibe of the current track. Tracks that are recommended to you are curated by "a team of experts," says Apple, just like Beats Music was, rather than algorithms used by rival services like Google.



Apple also showed off a feature called "Connect" that allows artists to interact directly with fans by uploading tracks, pictures, blog posts and more that can be commented on by users and responded to by the musician. Finally, Apple has updated Siri to integrate the personal assistant software to Apple Music. For example, you can ask Siri to "play the top track of last year" and she should begin playing Happy by Pharrell.

"Apple Music is really going to move the needle for fans and artists," added Jimmy Iovine. "Online music has become a complicated mess of apps, services, and websites. Apple Music brings the best features together for an experience every music lover will appreciate."

The streaming service will cost $9.99 (shocker) or $14.99 for a family plan that can include up to six individuals. Everyone will also get a free three-month trial to get started. The family plan gives it a slight leg up on Spotify, which offers a two-person family for the same price, but otherwise the content and pricing is almost identical to Rdio, Spotify and others. One exception, however, is Apple managed to get Taylor Swift on team Apple, meaning she likely sold out her own beliefs for a fatter paycheck. You can get started with Apple Music on June 30th and later this year on Android.