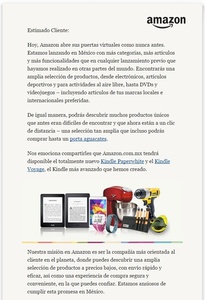 Amazon has announced today the launch of retail operations in Mexico, giving customers in the nation the chance to buy millions of items.
Until now, Mexicans only had access to the Kindle e-book store, and today's launch was Amazon's largest ever, internationally.
The site is Spanish language and Amazon has also rolled out iOS and Android apps as well as fulfillment services for marketplace users.
Due to a notoriously shaky postal system in Mexico, Amazon has also made it possible to pick up many of your items from hundreds of locations across the nation. These will not be Amazon Lockers, but rather pickup location operated by trusted business partners.
"The expansion of Amazon.com.mx represents Amazon's biggest international launch ever,"
said Juan Carlos García, Amazon's Country Manager for Amazon Mexico.
"With convenient and secure payment options and fast delivery, our goal is to deliver a world-class shopping experience for customers in Mexico."
Source:
Amazon