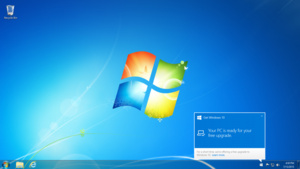 In order to "manage demand" Microsoft has decided to roll out Windows 10 in phases, meaning not everyone with an eligible PC will actually receive it on launch day: July 29th.
The first fans to receive the update are those who have signed up to be Windows Insiders and are currently beta testing the operating system.
Microsoft expects 100 million upgrades to Windows 10, so it does make sense to have a phased roll out but it won't make everyone happy especially if you have reserved a copy for months now.
Says the company:
"Starting on July 29, we will start rolling out Windows 10 to our Windows Insiders. From there, we will start notifying reserved systems in waves, slowly scaling up after July 29th. Each day of the roll-out, we will listen, learn and update the experience for all Windows 10 users.

If you reserved your copy of Windows 10, we will notify you once our compatibility work confirms you will have a great experience, and Windows 10 has been downloaded on your system."
You can read more about the phased roll out here:
Microsoft