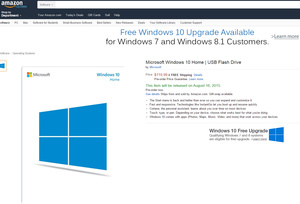 Microsoft has confirmed that it will sell Windows 10 on USB drives, finally offering an alternative to DVDs for those that like to own a "physical" copy of the operating system.
The offering is great for notebook owners, as the DVD drive is no longer a standard found in every computer. Additionally, those with operating system issues will have an alternative way to repair their devices or reformat.
Although it is unclear if the pricing is final, Windows 10 Home is already available for pre-order on Amazon for $119.99 and Windows 10 Pro is available for $199.99.
"Windows 10 will be available on USB drives for purchase in retail channels shortly after launch,"
a Microsoft spokesperson added.
"The suggested retail prices for Windows 10 in the U.S. are the same as Windows 8.1."
Microsoft also confirmed that Amazon will not be the only retailer to offer the devices, and Microsoft will offer it themselves through the Microsoft Store.
Source:
VB