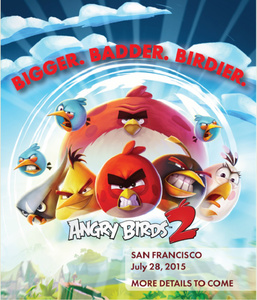 Six years after the original launched for mobile in 2009, Finnish games developer Rovio has announced 'Angry Birds 2' - the long-awaited sequel.
The original game has been downloaded over 2 billion times for Android, iOS, Windows, PC and Mac but popularity of the game has waned for years.

Rovio tried to spice up sales via spinoff games, totaling 14 since the launch of the first game. The more popular spinoffs include Angry Birds Star Wars and Angry Birds Space, and many of the titles have been downloaded hundreds of millions of times. None have been able to match the success of the original, however, a game that basically created the casual mobile gaming industry.

The developer will unveil more on July 28th at a press event in San Francisco, but so far the details are scarce other than that the game will be "bigger, badder and birdier."