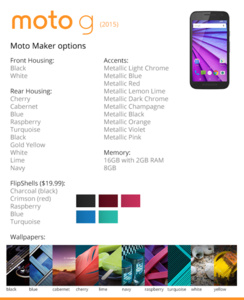 Thanks to a couple new leaks, we appear to have all the details of the upcoming Moto G.
The Moto G, first launched in 2013, is a low-cost yet high-end Android device and is moving into its third generation.
According to the leaks, the device will have a 720p Gorilla Glass protected display, 2GB RAM, internal storage of either 8GB or 16GB depending on the model, be powered by an unknown quad-core Snapdragon processor and the device will be eligible to run through the Moto Maker customization site.
If customizing, there are two options for the front case - black or white - and then ten choices for the back case: Cherry, Cabernet, Blue, Raspberry, Turquoise, Black, Gold Yellow, White, Lime, and Navy. In addition, there are metallic accents you can choose from including Light chrome, blue, red, lemon lime, dark chrome, champagne, black, orange, violet, and pink.
The phone will have a 13MP rear camera, a 5MP selfie camera and the device will be water-resistant.
Source:
BI