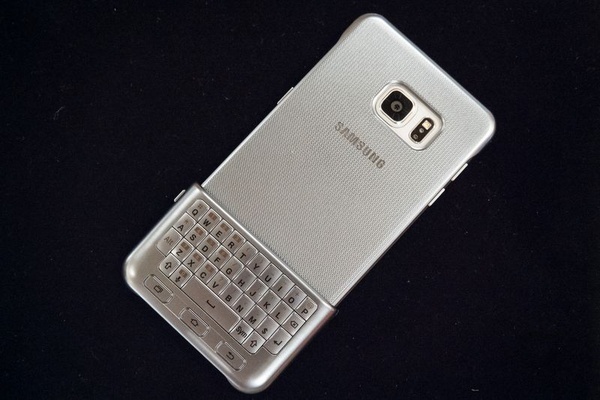 Even though the hardware keyboard mostly died when BlackBerry did, it appears that Samsung is feeling nostalgic.
Announced today alongside their new flagship Galaxy S6 Edge+ and Galaxy Note 5 smartphones is a new kind of smartphone hardware keyboard, one that might make Ryan Seacrest and his 'Typo' keyboard blush.
The keyboard does not require Bluetooth or a battery and does not extend to the bottom of your phone. Rather, the keyboard snaps on top of your display, effectively cutting off about 40 percent of the visible display and the phone will auto-recognize the device and adjust the phone's interface. The screen actually reads the keypresses, and the keyboard can be snapped onto the backside of the phone for storage.
There was no word on price or availability.
Source:
Verge
(keyboard pictured attached to back of phone for transportation)