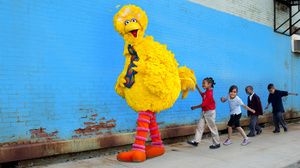 HBO has signed a 5-year deal with Sesame Workshop that will bring 'Sesame Street' to the network as part of a core of new kids programming.
The network says Sesame Street will be available on HBO, its multiplex channels and its streaming Now and Go services. In addition, non-HBO subscribers will also be able to see the show, as they have for decades, on PBS, albeit nine months after they debut on HBO.

"Our new partnership with HBO represents a true winning public-private partnership model,"
said Sesame Workshop CEO, Jeffrey D. Dunn, in a statement,
"It provides Sesame Workshop with the critical funding it needs to be able to continue production of 'Sesame Street' and secure its nonprofit mission of helping kids grow smarter, stronger and kinder."

Besides Sesame Street, Sesame Workshop will also license out episodes of "Pinky Dinky Doo" and the new reboot of "Electric Company."
HBO has licensed 150 previously aired episodes and new episodes will begin later this year.
Source:
WSJ