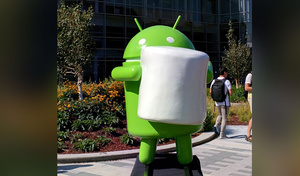 After a week of teasing, Google has confirmed that its upcoming Android M mobile operating system will take the name Marshmallow and will take version number 6.0.
The early confirmation came when Google added the giant Android statue to its building, with the statue holding a giant marshmallow.
Later in the day, the company released Android 6.0 Preview 3 images to load to your Nexus devices, confirming the operating system would not be version 5.2 as previously expected.
If you'd like the update, you can get it here:
Android Devs Blog