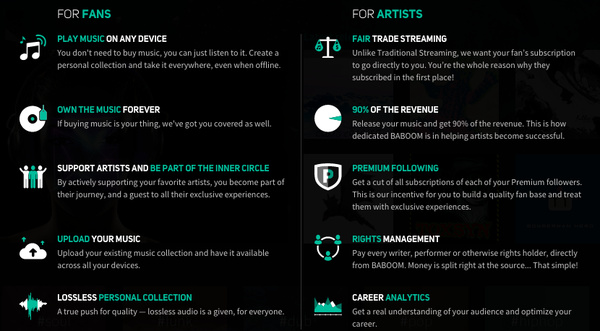 First teased in 2011, music streaming service Baboom has finally launched.
The service is inviting consumers to sign up and begin creating collections either through the Web app or via its Android and iOS mobile apps.
Despite offering features that are similar to Spotify and others, Baboom is fundamentally different. Its entire platform is "direct-to-fan." Musicians who use the service will receive 90 percent of the revenue from their music and gain full transparency of the platform's 'Fair Trade Streaming' initiative, which promises to make sure fees are distributed properly to artists.
As with most streaming services, you can register as a standard (free) user or a premium ($9.99 per month) user. Free users get unlimited streaming, with ads, and the option to create collections of up to 100 songs. Premium users get unlimited collections, no ads, mobile streaming and "exclusive experiences," although it is unclear what that may entail.
Kim Dotcom, of MEGA infamy, first announced the service in 2011, and then named it and teased it again in 2013. Last year, Dotcom "stepped down" from the service as he claimed the music industry's hatred of him was delaying the service from launching.
Source:
Baboom