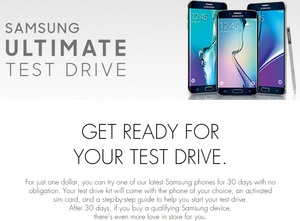 Samsung announced last week that for $1, iPhone owners could test out new Galaxy smartphones for 30 days in an effort to get some users to switch over.
After just a few hours, Samsung has announced that their test program is a hit and there are none left available to rent. iPhone owners looking to try out a Galaxy S6 Edge, the new Galaxy S6 Edge+ or the new Note 5 will have to wait a little bit.
"We're now working quickly on how to make the Ultimate Test Drive available to even more people," said a spokesperson, although they would not comment on how many devices were available for loan in the first place.
Check out the program here:
Ultimate Test Drive