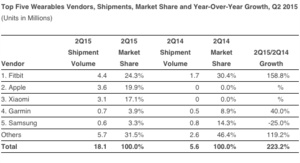 Apple has quickly taken second place in the fledgling wearables industry, just a couple of months after launching their first device, the Apple Watch.
Market analyst firm IDC says Apple shipped 3.6 million watches in the Q2 2015, placing behind Fitbit, which shipped 4.4 million of its much cheaper health and fitness wearables.
Total shipment volume in the industry exploded 223 percent thanks to Apple, and was up to 18.1 million units for the quarter.
Xiaomi was a close third, shipping 3.1 million devices although their Mi Band sells for just $15, making it easily the cheapest such device on the market. The average Apple Watch sells for $450, while the average Fitbit device sells for $120.
Source:
Verge via IDC