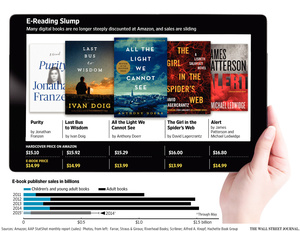 Over the past few months, e-book distributors have been signing new deals with e-commerce giant Amazon, and you've likely noticed that the prices of e-books have gone way up, almost in-line with what a physical book sells for.
While the publishers were likely happy that they got to price gouge (and Amazon could no longer discount), revenues have already taken a huge hit so the publishers' strategy has unsurprisingly backfired.
Majors Hachette Book Group, HarperCollins Publishers and Simon & Schuster all reported major declining e-book revenue in the last quarter. Hachette, for example, saw e-books fall to just 24 percent of its U.S. net revenue for the first 6 months of 2015, compared to 29 percent a year earlier. The company also had a large 7.8 percent drop in revenue for the period.
On the other hand, most of the publishers have claimed that lack of blockbuster titles have been the cause of declines but that remains to be seen.
Source and image:
WSJ