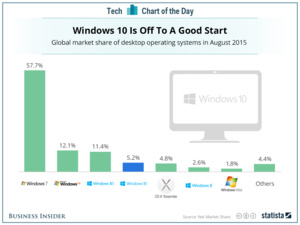 Microsoft Windows 10, on the market since the end of July, has now surpassed Apple's OS X Yosemite in market share.
According to the latest figures from Statista, the operating system has 5.2 percent market share, ahead of Yosemite at 4.8 percent. Although Mac has a much smaller share of the overall market, the number is still significant as Yosemite was launched last November.
As expected, Windows 7 is far and away the leader, at 57.7 percent share, followed by the 14-year old (wow) Windows XP at 12.1 percent. Windows 8.1, in its short time on the market, has 11.4 percent share and that share is expected to disappear in the coming months as Windows 10 cannibalizes it.
Windows 10 is free to legal owners of Windows 7 and Windows 8.1 and the operating system is also available on different ecosystems including Raspberry Pi, tablets, Windows Phones and soon on the Xbox One.
(Chart via
BI
from Statista)