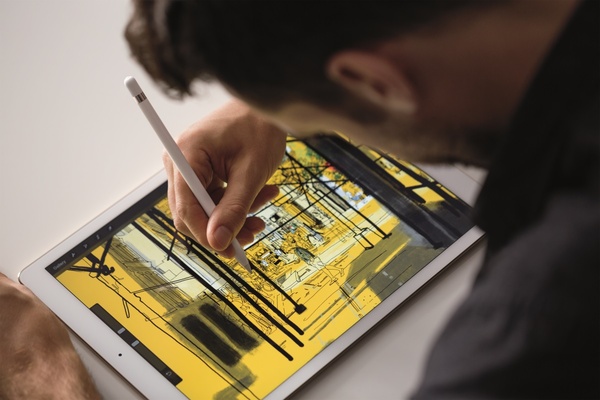 The iPad Pro has gained considerably in size and power over the iPad Air 2, and Apple has decided to embrace the stylus.
iPad Pro measures 12" x 8.68" x 0.27" (305.7mm x 220.6mm x 6.9mm) dominated by a 12.9‑inch Retina display with a resolution of 2732 x 2048 (264ppi). It weighs 1.57lb (713 grams) for the Wi-Fi only model, and slightly heavier at 1.59lb (723 grams) for the Wi-Fi+ Cellular model.

Under the hood it packs Apple's latest SoC, the A9X which boasts improvements over the A8X inside the iPad Air 2, including double the memory bandwidth. Apple decided to focus on its improvements over the A7 mostly though (iPad Air), claiming the A9X provides 2.5x faster CPU processing and 5x faster GPU processing over the A7. As for how much RAM is packed in the iPad Pro, honestly we have no idea right now but the suggestions around are that it has 2GB, just the iPad Air 2.

There isn't much to talk about in regard to camera improvements, the iPad Pro features the same 8MP iSight camera on the back and FaceTime HD camera on the front as the iPad Air 2.



It promises up to ten hours battery life (nine hours if you spend all of your time surfing) on a full charge.



Like the size of the iPad Pro, the price is also on the high end. For a 32GB Wi-Fi-only model, you will need to shell out $799. To upgrade to 128GB Wi-Fi only, you are looking at a bill of $949. There is only one Wi-Fi + LTE option, which comes with 128GB storage, and it will cost $1079.

iPad Pro will be available in November.

Also unveiled today was the Apple Pencil stylus, a pressure-sensitive stylus with internal sensors that can detect position, force and tilt, and is charged by the iPad's Lightning port. It is sold separately to the iPad Pro at a cost of $99.