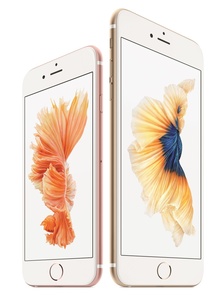 Apple spices up its iPhone stocks with 4K video recording, 3D touch, Live Photos, the powerful A9 chip and more.
The details leaked about the latest iteration of iPhones from Apple in recent weeks came pretty close, which has become commonplace for a company that once kept its secrets so close to its chest. The new iPhone 6s is accompanied by the iPhone 6s Plus - available in gold, silver, space gray and the new rose gold metallic finishes - and both packing Retina HD displays and ultra-strong glass. Additionally, both use 7000 series aluminium so we're unlikely to see "bending" claims this time.

As expected, the iPhone 6s retains a 4.7-inch LED-backlit display (1334 x 750), and the iPhone 6s Plus keeps the 5.5-inch display (1920 x 1080).

Apple paid special attention to "3D Touch", which is basically the "Force Touch" feature that Watch owners will be familiar with. With it, users can press down on elements on the screen with different levels of force to bring up content. For example, you can press down lightly to peak at a photo, or an e-mail on the relevant app, or you can press down with more force to get into the content itself. Apple calls this "Peek and Pop".



Here is a demonstration of 3D Touch.



Both new iPhones also have significant camera and imaging improvements. Both feature a new camera with a 12 megapixel sensor which can be used to record 4K video content with a resolution of 3840 x 2160 and at 30 frames per second. The 4K video can be edited with the latest version of iMovie on the iPhone itself.

Both also have an upgraded 5-megapixel FaceTime HD front camera, which is a significant upgrade on the 1.2-megapixel front cameras on the iPhone 6 and iPhone 6 Plus. With iPhone 6s and iPhone 6s Plus, Apple also has introduced Live Photos, which allow you to press on an image to reveal the moments right before a picture was taken.



Powering all of this is the new A9 chip, which Apple claims provides 70 percent faster CPU processing and 90 percent faster GPU crunching. It also has an embedded M9 motion co-processor - in previous models the motion co-processor was a separate chip.

The new iPhones also support up to 23 LTE bands and promise improved battery life when using WiFi or LTE Advanced. Both run Apple's new iOS 9.

As for how much these new toys will cost, the iPhone 6s is available with 16GB, 64GB and 128GB storage options, priced at $199, $299 and $399, respectively (on contract). The iPhone 6s Plus starts at $299 for the 16GB model. Pre-orders are available from September 12.

U.S. user may also be interested in the new iPhone Upgrade Program. Customer can buy an unlocked new iPhone and pick their carrier and receive a new iPhone annually along with AppleCare+. The price starts at $32 monthly for the iPhone 6s and $37 monthly for the iPhone 6s Plus.