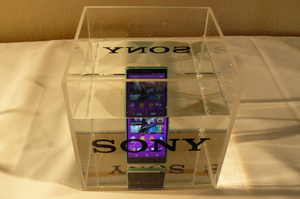 During the past couple of years Sony has been introducing waterproof phones left and right. Xperia series is full of flagship phones and midrange ones that are in most cases IP68 certified. But now the company wants you not to use them in the water.
Xperia Blog has found out
that Sony has changed its policy on water protection. While the IP68 certified phones have been tested to endure 30 minutes of water in 1,5 meters (5 feet) the company says users should not do that.
The
Xperia Care webpage
declares: "Taking photos and movies in wet surroundings. Remember not to use the device underwater. If you accidentally get the device wet with non-fresh water, wash the device with tap water." and "The IP rating of your device was achieved in laboratory conditions in standby mode, so you should not use the device underwater, such as taking pictures. Do not use the device to take photos while performing any type of activity underwater, including diving or snorkeling."
So in essence the phones should indeed be good to go if all the plugs and connector protectors the phones comes with are used but the company doesn't want to take the chance that people misuse the phones – or use at all – under water.
Sony and retailers have been advertising the phones as waterproof displaying them being used under water so we'll have to see what kind of response customers will have. Are you a Xperia owner and how disappointing is the new policy?