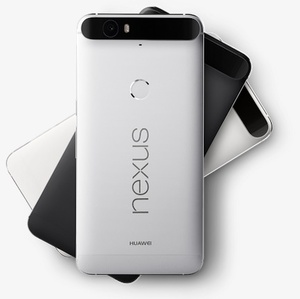 Google's latest flagship is official, although we have seen a slow drip of leaks over the past few weeks that took away some of the surprise.
The Nexus 6P, built by Huawei, is slightly smaller than its predecessor the Nexus 6 with a 5.7-inch WQHD display, and features a completely redone design that is just 7.3mm thick and features an all-metal body.
Under the hood is 3GB RAM, a Snapdragon 810 v2.1 processor, and a huge 3450mAh battery. The phone is the first Nexus to include a fingerprint sensor (placed neatly on the back), which can authorize payments and unlock the phone just like on Samsung and Apple devices.
Where the Nexus 6P really shines, however, are the cameras. The selfie cam is up to 8MP and the rear camera is 12.3MP with a special Sony sensor that allows for more light to be taken in and improve low-light photos significantly. The camera also allows for 4K video, burst mode, slow-mo, and more. In early spec comparisons, the Nexus 6P is expected to have the best camera of any smartphone with the exception of the new Samsung Galaxy S6 Edge+.
Huawei has included a USB Type-C port for charging (meaning you can insert the cable in any direction) and it should actually improve charging speeds. Just like the Nexus 6, the 6P also supports fast charging, meaning up to 50 percent of charge in an hour.
Pre-orders are already available (and Google didn't have a huge debacle like usual with their servers and orders) and the phone is priced incredibly at $499 for the 32GB model and up to $649 for 128GB if you prefer the extra space. The phone is unlocked and should work on all major carriers when it ships at the end of October.
Get the device here: