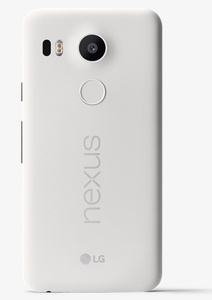 In addition to launching their Nexus 6P high-end flagship today, Google also showed off the LG-built Nexus 5X.
The new smartphone will serve as the smaller of the two flagships, the same way Apple has the 6s and 6s Plus, and the specs are still very solid, especially for the price.
Under the hood of the Nexus 5 is a Snapdragon 808 processor, 2GB RAM and a 2700mAh. The phone runs on Android Marshmallow, has a 5.2-inch 1080p display (with Gorilla Glass 3), the USB-C charging port, and the same 12MP camera of the Nexus 6P which includes 1.55-micron pixels for excellent night shots.
Just like its big brother, the Nexus 5X also adds a fingerprint scanner, calling the tech Nexus Imprint. Supposedly, it takes just 600ms to recognize your prints, and it actually improves over time.
The smartphone is also priced at about half the price of the iPhone 6S, starting at $379 for the 16GB model.
Check out the device here:
Nexus 5X