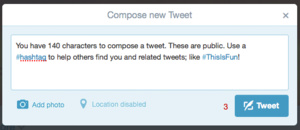 According to sources, Twitter is building a new product that will allow users Tweet messages that are longer than 140 characters.
Anything definite about the product is still unknown, but the sources claim it will allow current Twitter users to publish longer-form content to the microblogging service.
In addition, Twitter is also looking into how they count the characters, with the possibility of not including links, image URLs or user handles in the character count moving forward. Twitter users have long complained about having to destroy their grammar just to fit in an @user.
New CEO Jack Dorsey appears to be for the changes, a bold move that shows he seems to care about changing the status quo at the struggling company.
Source:
Recode