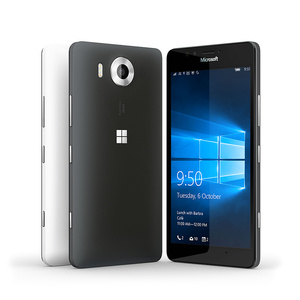 It's been leaked for months, but now it's official: Microsoft has unveiled the Lumia 950 scheduled for release in November.
The new flagship device will feature Windows 10 Mobile and will pack hardware specs that match any other flagship out there.
Microsoft's latest has a 5.2-inch WQHD (1440 x 2560) OLED screen with Gorilla Glass 3, 3GB RAM, a 1.8GHz hexa-core Snapdragon 808 processor, and Microsoft says it includes liquid cooling, as well, even though it is a bit unclear how that exactly works.
In an effort to compete with the latest Samsung, Apple and Nexus devices, the Lumia 950 will also have a great camera featuring a 20MP PureView lens, triple LED flash, 4K capture, and "Rich Capture" for intelligent auto pictures.
Finally, the phone has 32GB internal storage, USB Type-C fast charging support, and a 3000mAh battery. On the software side, the Lumia 950 also supports Windows Hello biometric scanning and Windows Continuum, which lets you connect the phone to a monitor through a special adapter and also by letting you attach a wireless keyboard and mouse via Bluetooth.
Source:
Microsoft