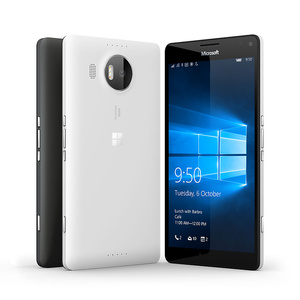 Two years after Nokia released their Lumia 1520 phablet for Windows Phone, we finally have another flagship phablet for the operating system.
Microsoft unveiled the Lumia 950 and its larger brother the Lumia 950 XL, with similar high-end specs.
The new flagship device will feature Windows 10 Mobile, a 5.7-inch WQHD (1440 x 2560) AMOLED screen with Gorilla Glass 3, 3GB RAM, a 2.0GHz octa-core Snapdragon 810 processor, liquid cooling and a 3340 mAh battery with USB Type-C fast charging support.
As with its smaller brother, the Lumia 950 XL will also have a great camera featuring a 20MP PureView lens, triple LED flash, 4K capture, and "Rich Capture" for intelligent auto pictures.
Just like the 950, the XL also supports Windows Hello biometric scanning and Windows Continuum, which lets you connect the phone to a monitor through a special adapter and also by letting you attach a wireless keyboard and mouse via Bluetooth.
Source:
Microsoft