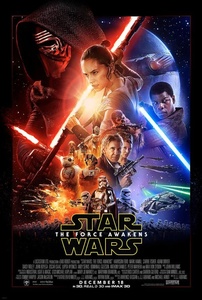 For anyone excited for the upcoming "Star Wars: The Force Awakens," this has been quite the weekend.
Disney has revealed the final poster for the upcoming film, and it matches the tone of the previous movies in showing off key characters, a space background and the red to blue (evil to good) transition.
Interestingly, in the back there is also a huge canon-looking planet, which could be the rumored 'Starkiller Base' that is rumored to destroy entire star systems.
Even better for fans, Disney has announced that the next official trailer will be released tomorrow during Monday Night Football.
Check out the new official poster! Tune in to @ESPN's Monday Night Football for a new look at #TheForceAwakens. pic.twitter.com/NTRWLlVyID

-- Star Wars (@starwars) October 18, 2015