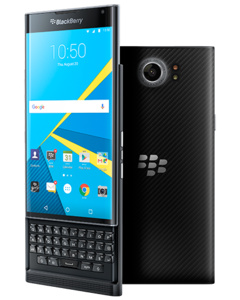 A day after retailers leaked specs and assumed price for the device, BlackBerry has officially priced its Priv Android slider smartphone.
The device will sell for $699 unlocked, a massive price tag even for the powerful specs.
BlackBerry's first Android phone has a curved 5.4-inch QHD display, is powered by a Snapdragon 808 processor, 3GB RAM, 32GB internal storage (expandable to 2TB), dual 2MP/18MP cameras, a large 3410 mAh battery and a full physical keyboard.
The Priv will work with major U.S. GSM providers AT&T and T-Mobile and not with Sprint, Verizon or US Cellular. BlackBerry also says they have included their own security and privacy features including a tool called DTEK that constantly monitors your apps and the operating system for any security vulnerabilites.
Get it
here
for its November 6th release date.