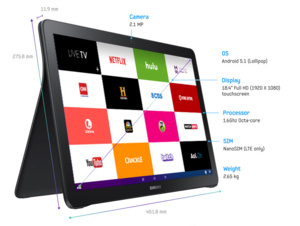 Samsung has teased us earlier with a new Galaxy tablet and finally couple days ago we got some leaked good quality pictures of what is a massive slate. It was leaked by the leakster like none other,
Evan Blass
, but now shortly after Samsung has made it official.
Galaxy View is a tablet that is not meant for travel. You would be hard-pressed to call it mobile really, and it comes with a kickstand for a reason. The reason being its humongous 18,4 inch display that has a Full HD resolution. The display dwarfs that of the iPad Pro which "only" has a 12,9 inch touchscreen.

The measurements are 275.8 x 451.8 x 11.9 mm (iPad Pro: 305.7 x 220.6 x 6.9 mm) and it weighs 2.65kg (nearly six pounds) – that's closing on four times more than iPad Pro. Obviously this device is meant to be used in an all-in-one PC way.

The other details include a 2,1 megapixel front-facing camera, octacore chipset, 2 gigs of RAM and 32 or 64 gigs of storage expandable with a microSD card. There's both a WiFi and an LTE version but Samsung hasn't yet revealed the pricing or the availability. Leaks have previously suggested that the cheapest 32 GB version would retail for $599.