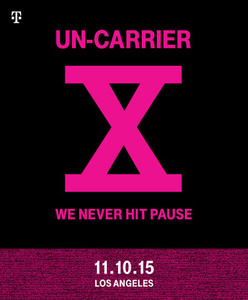 When it comes to mobile leaks there is one leakster that has almost an impeccable record. Evan Blass, who goes by the alias @evleaks on Twitter, has revealed a new service T-Mobile is about to introduce.
According to Blass T-Mobile is going to start supporting unlimited streaming from services like Netflix and HBO among others. The "Un-carrier" lead by CEO John Legere is said to unveil this extension of the service as the 10th Un-carrier announcement. Press has been invited to attend the announcement on November 10th.
The announcement itself has the words "we never press pause". Considering T-Mobile
announced last year Music Freedom
, which offers music streaming without data caps this seems like a logical step.
T-Mobile has been advocating the recent years against data caps, smartphone subsidies and contracts, and is one of the few mobile operators in the US to offer truly unlimited data plans.
T-Mobile's Uncarrier 10 to offer unlimited high speed data for watching select streaming video services like Netflix, HBO, etc.

-- Evan Blass (@evleaks) October 29, 2015