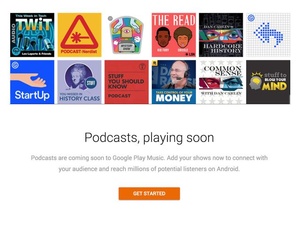 Google is preparing to add a home for podcasts via its Google Play Music service, marking the first time Android users will have a native app for listening to their favorite popular shows.
The search giant is not just looking to have Android users begin listening to existing podcasts, however, it also wants to reach out to users who have never heard one before. Elias Roman, co-founder of the streaming service Songza that was acquired by Google, says,
"our goal is to serve content that makes what you do every day better,"
including podcasts that fit your mood at the time, or what you may have liked in the past.
"Podcasts allow us to do everything for our users,"
Roman added.
"It makes us a more complete concierge."
Google and Android have a ways to go. By most counts, podcast listening is dominated by iOS users, which is unsurprising given the focus Apple has put on them in the past.
Podcasting will be available via the free Google Play service and the subscription Google Play Music All-Access although even with the $9.99 service you will still hear ads within the podcasts unlike with music playback.
Source:
re/code