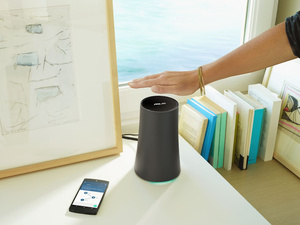 Google has unveiled their second OnHub router today, a $219.99 device built by ASUS.
The first OnHub router was launched earlier this year, and reviews were generally very good. OnHub has 4GB of internal storage and also comes with its own app where you can see what devices are using bandwidth and change settings easier.
In addition to the new router, the company will also be rolling out a software update that introduces such smart features like "Wave Control" that allows you to boost speeds for a specific device by just waving your hand.
Adds Google:
"OnHub routers are designed to stay fresh and get better over time. So in addition to the new ASUS router, in the coming week we're rolling out our first software update with several performance improvements, including a new smart antenna algorithm. Phone in the kitchen? Laptop in the living room? OnHub will intelligently select the best combination of antennas to direct Wi-Fi to your devices, based on their location and orientation. The best part is, if you already have an OnHub, your router will automatically update when your network is quiet so it won't interrupt your connection."
The router is
already available for pre-order
in the U.S. and Canada.