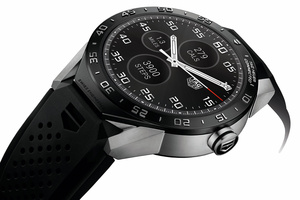 This week, Swiss luxury watchmaker TAG Heuer unveiled their first smartwatch, the Connected Watch.
The watch was built in partnership with Google and Intel and will run on Android Wear with custom TAG watch faces and features like restaurant recommendations and golf trackers.

For fans of design, the Connected Watch is easily one of the nicest looking smartwatches ever, based on the classic Carrera model. The case and buckle are made of titanium in Switzerland, and TAG is offering 7 different vulcanized rubber straps to match the buckle. The face is relatively large, at 46mm, and the watch is not thin either at nearly 13mm thick.

Everything under the hood is standard and well known to smartwatch fans or owners, but the Connected Watch is missing a speaker and GPS. The company promises 30 hour battery life, but it will interesting to see real world tests.

TAG's watch is available now and sells for $1500 retail.