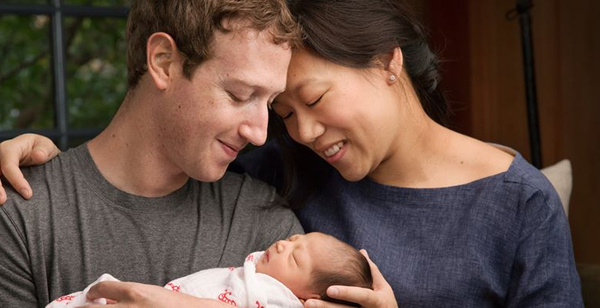 Facebook founder & wife pledge to donate 99 percent of Facebook shares to good causes as they announce the birth of daughter Max.
Mark Zuckerberg and his wife, Priscilla Chan, are celebrating the birth of their daughter Max by announcing that 99 percent of their shares in Facebook will be given away to good causes, currently worth about $45 billion. The announcement was made as part of a publicly-posted letter to Max by her Dad on Facebook.
"Like all parents, we want you to grow up in a world better than ours today,"
Mark writes.
Throughout the letter, Mark reflects on the fight against disease and human suffering, observing that medicine has only really been grounded properly in Science for less than a century, and yet has eliminated many diseases completely and alleviated much human suffering.
Beyond medicine, Zuckerberg also speaks of equality and the cost of inequality. Promoting equality, Zuckerberg argues, is about ensuring that every has access to opportunities regardless of the circumstances they are born into. Without these opportunities, our society is robbed of the potential so many have to offer.
"The only way to achieve our full potential is to channel the talents, ideas and contributions of every person in the world,"
Zuckerberg writes.
"We will give 99% of our Facebook shares -- currently about $45 billion -- during our lives to advance this mission. We know this is a small contribution compared to all the resources and talents of those already working on these issues. But we want to do what we can, working alongside many others."
Billionaire investor and philanthropist Warren Buffer has already praised the couple for their commitment, saying that when it comes to giving away your fortune, "30 is the new 70".
Read:
Mark Zuckerberg's letter to Max on Facebook