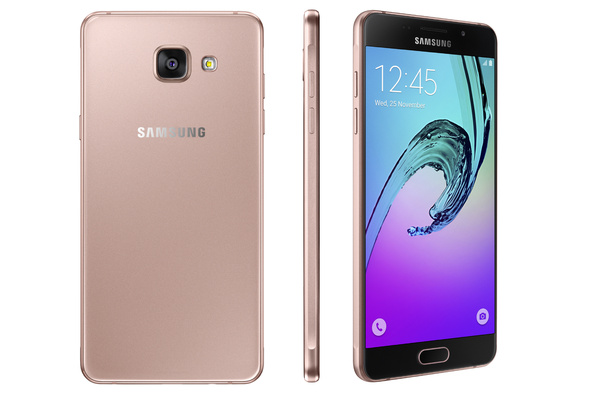 Samsung announced today three new Galaxy handsets that will update the midrange A series. The metal and glass design of Galaxy A3, A5, and A7 gets a facelift, but there are some specs changes to look forward to too.
The major upgrades are bigger batteries (albeit thicker, heavier devices), better cameras, and in case of A5 and A7, Samsung Pay enabling fingerprint sensors. Samsung didn't announce an A8, so the new A7 is the new top-of-the-line A series model for now. It features a 5.5 inch Full HD Super AMOLED panel, 3 GB of RAM, 16 GB microSD expandable storage and a new optically stabilized 13 megapixel shooter alongside 5 megapixel selfie camera.

A5's display is a tad smaller at 5.2 inches but retains the Full HD resolution. In addition to a smaller battery (3300mAh vs 2900mAh), the middle sibling loses a gig of RAM. In other aspects it is virtually identical to the A7. A3 is clearly a lower tier model with only a 720p HD display at 4.7 inches, 1.5 GB of RAM, less processing power, no optical stabilization and no fingerprint sensor. Also Fast Charging found on A5 and A7 is missing on the cheapest model.



Starting from China the new A series will come available in mid December. The pricing obviously depends on the market but European prices of 329 euros (A3) and 429 euros (A5) have been released. There is no official word on the price of A7 but an off contract price of $499 would not be a surprise.