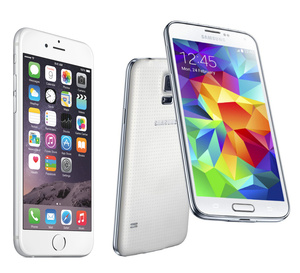 Samsung will pay $548 million to Apple by December 14, the latest news in a patent dispute that stretches back almost five years.
Apple filed the complaint against Samsung in early 2011, accusing the South Korean consumer electronics giant of patent infringement related to certain features in its smartphones. The iPhone maker ultimately won and was initially awarded $1 billion (it had sought $2.5 billion), which was later reduced to $548 million.
In a joint court statement, Samsung has pledged to pay Apple the $548 million by December 14, if Apple produces an invoice before the coming weekend.
The South Korean firm hasn't thrown in the towel fully yet, however, and asserts its right of reimbursement in the event of more favourable legal judgements in the near future.
"Samsung further reserves all rights to reclaim or obtain reimbursement of any judgment amounts paid by Samsung to any entity in the event the partial judgment is reversed, modified, vacated or set aside on appeal or otherwise, including as a result of any proceedings before the USPTO addressing the patents at issue or as a result of any petition for writ of certiorari filed with the Supreme Court."
Florian Mueller, a patent analyst, first noticed the joint statement and covered it on his FOSS Patents blog, and explains Samsung's stance.
"The situation surrounding the '915 patent is not the only factor of uncertainty here for Apple. Samsung announced in the summer that it would file a petition for writ of certiorari (request for Supreme Court review) concerning design patent damages,"
Mueller wrote.
"If the top U.S. court agreed to hear that matter and agreed with what will likely be a broad industry coalition, there would have to be a retrial."
Source:
www.fosspatents.com