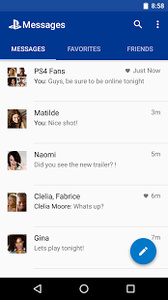 Sony has given fans what they want, a dedicated PlayStation Messages app for iOS and Android allowing for better communication for gamers.
"Use PlayStation Messages to instantly see who's online and message your gamer friends and favorite groups from your mobile device. Always stay connected with your gamer friends to talk about the games you love to play even while you're away from your PS4 system,"
says Sony.
A breakdown of the features:
- Check your Friends List to instantly see who's online and what they're playing.
- Send text or voice messages as well as photos and stickers to your friends or a group with up to 100 players.
- Quickly access your favorite message groups from your favorites list.
Source:
Sony via Google Play