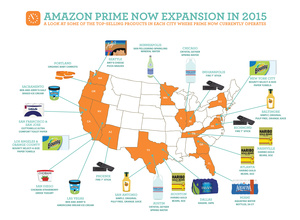 Amazon announced today that it has expanded the one-hour delivery provided by Prime Now to another 4,000 items. Amazon says the expansion includes electronics, toys, wrapping paper and even baking supplies.
Amazon's Prime Now started from Manhattan a year ago and has grown steadily. Prime Now operates in over 20 metropolitan areas in 16 states and is now starting to deliver beer, wine, spirits and other items from Eataly in Manhattan.

The company says it is the "procrastinator's dream" and promises that it'll deliver the tens of thousands of items this holiday until midnight on December 24th. Prime Now one-hour delivery is $7.99 and two-hour delivery is free

Prime Now is available in Atlanta, Austin, Baltimore, Chicago, Dallas, Houston, Indianapolis, Las Vegas, Los Angeles, Manhattan, Miami, Minneapolis, Nashville, Orange County, Phoenix, Portland, Sacramento, San Antonio, San Francisco, San Jose, San Diego, Seattle and Richmond.