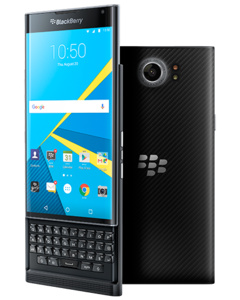 BlackBerry CEO John Chen has confirmed that the new Android-powered Priv slider is on its way to T-Mobile, Verizon and Sprint.
The phone launched last year, exclusive to AT&T, but that exclusivity period has run out.
Chen did not give a time frame for the phone's respective release dates, but T-Mobile CEO John Legere said the phone will be available online and in stores for $700 unlocked on January 26th.
"
Things are starting to work,"
noted Chen when asked about sales.
"We're generating cash, and we expect that to continue."
Chen previously hinted that the company could leave the hardware market completely if they could not hit 5 million sales for the Priv for the fiscal year.
It's true! #BlackBerry #PRIV coming to @TMobile on 1/26. But not this version – this is special for me #IAmBatman ;) https://t.co/n9jBXWvYnY

-- John Legere (@JohnLegere) January 6, 2016