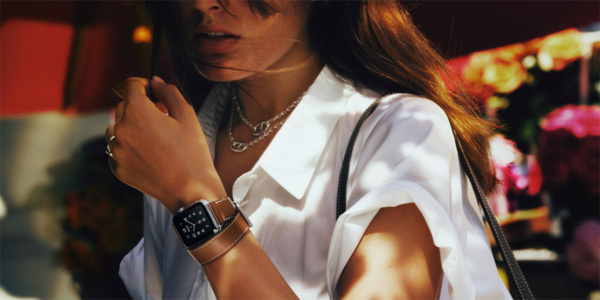 First launched in October in Apple and Hermès retail stores only, the high-end leather bands built for the Apple Watch will be available online starting on Friday.
All three of the bands will be available online, starting at $1100 for the "Single Tour" band available in Noir or Fauve in 42mm or Capucine in 38mm. The next step up is the "Double Tour," starting at $1,250 and available in Etain, Fauve, Capucine and Bleu Jean.
If you want to go all-out, you can get the "Cuff" band starting at $1,500 and available in brown.
Furthermore, you can get a stainless steel Apple Watch with Hermès branding on the back, and a few special watch faces pre-installed.
"Uncompromising craftsmanship. Pioneering innovation. Groundbreaking functionality. Apple Watch Hermès is the culmination of a partnership based on parallel thinking, singular vision and mutual regard. It is a unique timepiece designed with both utility and beauty in mind. With leather straps handmade by Hermès artisans in France and an Hermès watch face reinterpreted by Apple designers in California, Apple Watch Hermès is a product of elegant, artful simplicity -- the ultimate tool for modern life,"
read the original press statement for the partnership.
Source:
9to5Mac