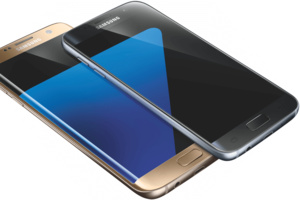 The grand old man of smartphone leaks, Evan Blass of VentureBeat has leaked one of the most anticipated smartphones of the year. It is of course the flagship model of Sasmung, Galaxy S7.
There's two pictures of the two different versions shown – the regular 5.1 inch Galaxy S7 and the larger 5.6 inch Galaxy S7 Edge. Blass has added one of the pictures to an
">early January VentureBeat story
(show above) and the other picture is seen in his tweet below.
By the looks of it the phone will be pretty much identical to the Galaxy S6, but obviously a lot of differences can be found under the hood. The Galaxy S6 – and especially the Edge version – and its metal and glass finish got a warm welcome after a slew of plasticky models, so not changing the exterior certainly isn't a bad choice.
According to Blass, Samsung has also added some key features to Galaxy S7 that the community has been aching for. The battery is still non-replaceable but microSD card slot will allow memory expansion and the phone is also finally water and dust resistant.
https://t.co/JT6X0g8sBu pic.twitter.com/J78eezrU5o

-- Evan Blass (@evleaks) January 29, 2016